ZIMBABWE INTERNATIONAL MUSIC FESTIVAL BIRA:
ZIMFEBI
One of the programmes initiated by Makandire Muzani Music is the Zimbabwe International Music Festival Bira (ZIMFEBI). ZIMFEBI is a recurring exchange program designed to celebrate and promote cultural development and experience sharing between and among countries.
ZIMFEBI was launched in 2007 in several venues that include: Parksnäckan in Uppsala (April); Alvik in Stockholm (1 December); and Hijazz in Uppsala (7 December).
The initial objective of ZIMFEBI was to get Zimbabweans and international friends to gather three times a year (August, September, October) in Sweden to celebrate and share culture through music.
Makandire Muzani Music, through its band ManLuckerz And The Zim-Traditional Unity would be sharing the Zimbabwean culture through traditional music.
What are the future projections of ZIMFEBI?
ZIMFEBI intends to:
build tolerance between different cultures.
promote peace.
foster development of mutual relationships between Zimbabweans, Swedes and other nationalities.
engage young people of diverse cultures to introduce them to cultural diversity through storytelling, music, dance and theatre.
ZIMFEBI later grew and was officially launched at the Book Café in Harare, Zimbabwe on the 9th of August 2013. The programme initiated international cultural exchanges and brought several artists from Zimbabwe to perform in Sweden and sent several artists from Sweden to perform in Zimbabwe. One beneficiary of the exchange was one of the late finest musicians in Zimbabwe, Andy Brown.
The late legend musician Andy Brown ZIMFEBI live performance at Södra teatern Stockholm and Hågaby Uppsala Sweden 2012:
Ambuya vaMadhinga Jesina ZIMFEBI live performance at Hijazz Uppsala and Södra Teater Stockholm Sweden 2012:
ZIMFEBI 2014 program Sweden: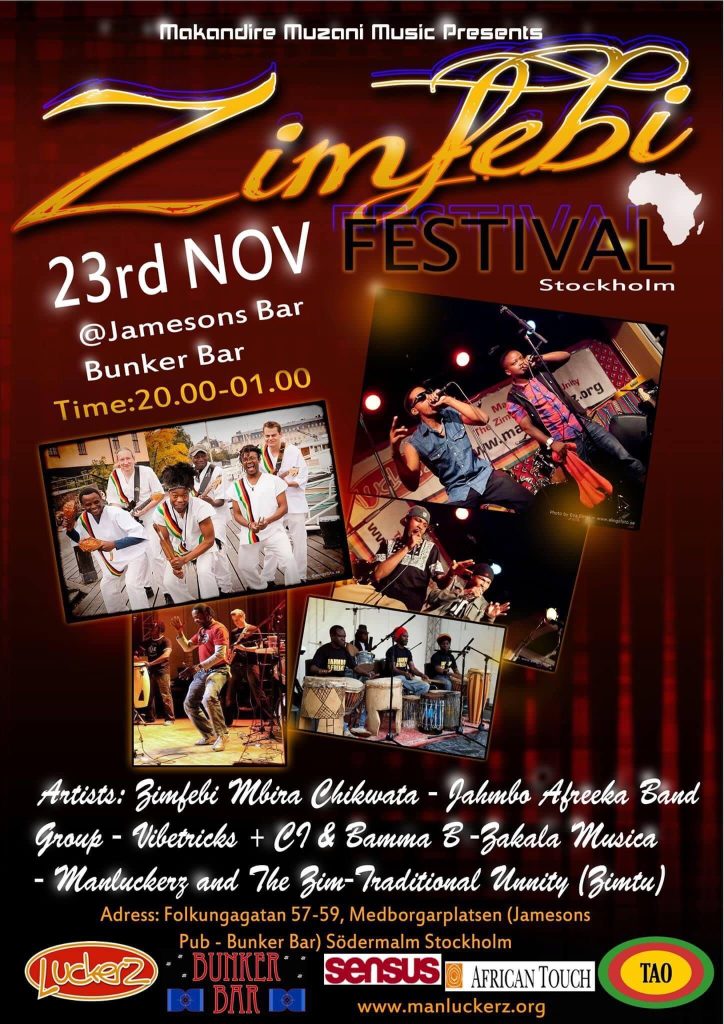 Partner with ZIMFEBI
Makandire Muzani Music invites partners and artists to support ZIMFEBI. If you are interested, please reach out to us.